THE AMERICAN HAPKIDO FEDERATION
MASTERS COUNCIL & BOARD OF DIRECTORS
The AHF Masters can bring the highest level of training to your school. in a variety of subjects.

Joint Locking, Ground Fighting, Weapon Disarms, Pressure Points, Traditional Weapons,
Hapkido Instructor training, Police Defense Tactics, Bodyguard training, Rape Self Defense.
Physically fit and ethical practitioners with proper rank standards to guide and further your training needs.
---
PRESIDENT AND FOUNDER:
Grandmaster Frank Ehnle
Training Since 1972

All ranks and achievements earned separately
under different instructors and organizations
with proper time in grade.

* Certified Grandmaster and Founder of "Wang Yong Mu Do"
* 8th Dan Black Belt Grandmaster rank in Hapkido
* 6th Dan Black Belt Taekwondo
* Black Eagle, SUGI Hapkido Certification
* Kukkiwon & KiDo Certification
* Certified Jeet Kune Do Master Instructor, JKD Assoc.
* Martial Art school owner since 1996, no day care.
* Developed Hapkido Pressure Point Program 3/20/2002
* Developed Royal Dragon Martial Art System "Wang Yong Mu Do"
* Former Exec. Vice Pres. of an International Hapkido organization
* Founder and President American Hapkido Federation
* Developed AHF Joint Locking Instructor training program
* Began training 1972, Isshinryu Karate, Sensei Louis Coletti
* Recognized Founder of "Wang Yong Mu Do" martial art.


WANG YONG MU DO - The way of the Fighting Royal Dragon



---
GRANDMASTERS & MASTERS COUNCIL, SENIOR BOARD MEMBERS
---
PROFESSOR GARY DILL
9th Dan Grandmaster

Professor Gary Dill has the rare honor of being one of the few original students who trained in one of Bruce Lee's three JKD schools while Bruce was still alive and heading up the JKD training program. Dill has been teaching Jeet Kune Do for almost 30 years, and is considered by many as one of the nationally known authorities in JKD today. He has written numerous articles concerning JKD for "Black Belt", "Inside Kung Fu" as well as other martial art magazines, has authored a JKD training manual, and produced a comprehensive collection of JKD home study videos

As well as being a world known authority on JKD, Professor Dill is also a fully certified Grandmaster of Bushido Kempo, a pure combat system with techniques from Karate, Ju-Jitsu, Aiki-Jitsu, Gung Fu, and weaponry. He has been inducted into several martial art hall of fames, and is a member of three different grandmaster councils. He has also received official rank recognition from mainland
China as an 8th Degree Black Sash in Chinese Wu Shu. The Professor has been active in the martial arts since 1963, and hold black belts in several different combat martial arts.

The core system, SDS Bushido Kempo , was founded by Professor Dill who has conferred the rank of 9th Dan in both SDS Aiki-Jitsu and SDS Bushido Kempo as well as the title of Soke -Dai (Successor) upon Dr. Farinelli . Dr. Farinelli is a professor of English and Languages at Northeastern State University (NSU) in Tahlequah , Oklahoma, where he developed and currently supervises the NSU Aiki-Jitsu program presently taught by long time black belt students, Stu and Patrick Fanning.

On a personal note, Professor Dill has spent many years in law enforcement, having served as a federal intelligence agent, state police criminal investigator, and as a chief of police. He was also a firearms instructor and a senior police defensive tactics instructor. He is a Vietnam veteran, and served in both the US Marine Corps and in the US Navy, and was a special agent with Naval Intelligence (NIS). Professor Dill now delegates all of his time to teaching the combat arts. For more info on Prof. Gary Dill,
www.jkd-garydill.com
---
MASTER PEDRO RODRIGUEZ
7th Degree Black Belt

President World Huk Ju Sool Hapkido Association, Senior Master Instructor Huk Ju Kwan Hapkido, & Kido-Kan Ju-Jutsu Certified Shihan International Federation of Ju-Jutsuans. Certified Instructor PFS Jeet Kune Do & Kali, Tae Kwon Do & Kajukenbo Kenpo. Certified Police Defensive Tactics Instructor. Former Head of Security - Upscale & Largest Night Clubs in Orlando, Florida. Security Consultant to Largest Night Clubs in San Juan, Puerto Rico. Instructor to officers in over 50 Law Enforcement Agencies. Member, United Martial Artists Association Hall of Fame Black Belt Council. Vice President Kido-Kan International, Founder IPDTI Officer Ground Survival. 8 Time Hall of Fame Inductee. Former Vice President ICHF. Master Rodriquez is a pure street stylist. A superior and highly skilled physical martial artist equally skilled on his feet and on the ground. Master Rodriquez holds a vast knowledge of diverse open hand and weapon based Martial Arts techniques.

www.mmastreetfightingsystem.com
---
LUIS SANTOS RENSHI
TenShin Aikido Federation
Chief instructor Luis Santos Sensei currently holds the rank of Rokudan ( 6 Dan ) and the Official Title of RenShi from the Dai Nippon Butoku Kai Honbu Kyoto Japan.


Santos Sensei has been a student of Aikido since 1982 and has trained with many top Aikido instructors in the US and Japan. Santos sensei open up his first dojo in Orlando Florida in 1995.

In Kyoto Japan Santos Sensei was awarded the rank of Rokudan and title of Shihan, after performing a demonstration at the Third World Butoku Sai and 46th Japan National Butoku Sai it was held in the historic Butokuden in Kyoto Japan this April 29-30, 2008. Shoubukan dojo means the Hall of Stressing the Truth and Spirit of Martial Way.


Martial Art Title ( Shogoo ) issued by the Dai Nippon Butotku Kai Honbu Kyoto Japan.
RENSHI Means Highly Trained Warrior, Man of High Attainment.


Santos Sensei also hold rank in the Arts of Iaido 4th Dan in Muso Shinden Ryu Iaido issued by the Dai Nippon Butoku Kai.


Santos Sensei travel around the world conducting seminarís and demonstration in Aikido Iaido, and Batto Do Ryu Sei Ken Kenjutsu.


November 2009 Shihan Santos was officially approved and recognized by the DNBK ID office and Honbu Headquarters, Kyoto, Japan As a Officials Coordinator of Dai Nippon Butoku Kai International Division.


Santos Sensei travel to Japan to train with the Master annually and take his senior students with him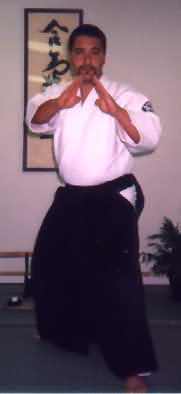 In 2004 the Dai Nippon Butoku Kai Honbu Kyoto Japan recognize the TenShin Aikido Federation as a accredited organization and official representative of the DNBK Honbu Kyoto Japan.
---
GRANDMASTER PHIL PEPLINSKI

Black Belts in Hapkido, Taekwondo and Torite Jutsu. Expert in firearms. An extensive knowledge of Pressure Points. A member of the Dragon Society. Currently teaching Temple Terrace S.W.A.T. Team defensive tactics and rapid controlling techniques. A very serious street approach to training with respect to the traditional Martial Arts. One of Master Ehnle's original Taekwondo instructors. Master Phil Peplinski brings a vast array of Martial Arts knowledge and "Reality Based" fighting experience to the AHF staff. www.tkd-hapkido.com
---
MASTER FRANKIE EHNLE

6th Dan Black Belt
MuKiDo Traditional Weapons Instructor

Master Frankie Ehnle.holds a 6th Degree Black Belt in Taekwondo and a 3rd Degree Black Belt in Hapkido. He has been training in the Martial Arts for over 25 years. He began in Uechi-Ryu Karate at age 8, he then earned Black Belts in Taekwondo & Hapkido. He developed a full traditional weapons program of Sword , Bo Staff, and Nunchaku. This study includes forms as well as all of the traditional stances, strikes and blocks of these weapons in an exciting and well disciplined belt level format. This is a ranked program with certifications at each level. It is a very disciplined and intense study of these traditional weapons. He offers clinics and seminars in the Mu Ki Do (Way of the Weapons) program.


---
SENSEI LOUIS COLETTI

Sensei Coletti is Master Ehnle's original Isshin-ryu Karate instructor from 1973 on Long Island, NY.. He also trained in Shotokan Karate as well as Taekwondo. He was the coach of a competitive Grappling team in the 1980's. In the early 1970's he was in attendance at the Ed Parker tour and witnessed Bruce Lee perform his 1" punch, Nunchaku skills and sparring demonstration. Sensei Coletti trained in the now legendary Lindenhurst, Long Island Isshin-ryu Dojo under Don Nagel and Ed McGrath. Sensei Coletti is a traditional Martial Artist with the highest of martial arts standards and integrity.


Sensei's 1970's uniform from the Ed McGrath Lindenhurst, N.Y. Isshin-Ryu Dogo.
---