* For more frequent News updates & Photos please see our Facebook page
AMERICAN HAPKIDO FEDERATION


Promote Your Page Too
---
PAST NEWS:
NEWS 7/2013 JEET KUNE DO BLACK SASH TESTING
The first Black Sash testing was held at AHF Headquarters. After teaching the program for five years our first group of JKD Black Sashes tested in a three hour long test. Prof. Gary Dill and Master Jill Hernandez were present to witness the testing. Students represented our school and curriculum and worked extremely hard! We are extremely proud of our JKD students! Photos are available on our Facebook page.
---
NEWS 6/2013 WORLD HEAD OF SOKESHIP COUNCIL MEETING 2013
Master Frank Ehnle was honored by the Jeet Kune Do Association as "Jeet Kune Do Instructor of The Year", Master Frankie Ehnle and Master Annette Ehnle were both honored for "Lifetime Achievement Awards - 20 Years In The Martial Arts", and Nicole Ervast was honored for "Royal Dragon Black Belt of The Year".
Master Ehnle gave a seminar presentation on "Balance Point Attacks" and Master Phil Peplinski gave a seminar presentation on "Handgun Tactics" including the new laser snap cap sighting device.
---
NEWS 8/2012 INDIANA -AHF MASTER JOHN DVORSCAK
Master John Dvorscak returned from a trip to Virginia Beach where his Daughter, Son in law and three grandchildren reside. He had the opportunity to visit the Oceana Naval base where his grandsons train through the U.S. Military Tae Kwon Do Federation. The evening's tone quickly changed when G.M.Baldwin offered Master Dvorscak the opportunity to Instruct with their adult class as an introduction to Hapkido. This was an honor. After Master Dvorscak's discussion with G.M. Baldwin and the Instructors, he is confident that his Grandsons are is great hands with structured, dedicated support. Photo (left to right): Mr. Jason, G.M. W.D. Baldwin, Master John Dvorscak, Master P. Pedigo, Mr. Brian and John's three Grandsons.

---
NEWS 8/2012 BLACK BELT TESTING IN TEXAS
Hapkido Martial Arts Academy of Texas conducted a Black Belt testing. Based on the sweat in the photos it was an honorable and challenging black belt testing! We would expect nothing less from Master Gibson and his distinguished martial arts career and high standards.

Master Gibson sent along his format for black belt testing which included 25 questions on knowledge, lineage, history, and traditions as well as an excellent selection of open hand, ground and weapon disarm challenges. Excellent format, excellent school, students should be very proud of their accomplishment. Master Gibson represents the AHF with extreme honor and excellent standards.




-F. Ehnle

. On behalf of the AHF Staff and Board of Directors Congratulations!
---
NEWS 6/2012 WHFSC HALL OF FAME - ORLANDO
The AHF table at the WHFCS HALL OF FAME 2012 in Orlando. The 20th Anniversary of this distinguished Grandmasters event. All of the big names came out for the anniversary and it was an incredible time as usual. Met many legends of the arts, and proudly can say we now have some AHF t-shirts and items going back to locations all over the world!
---

NEWS 2/2012 - American Warrior Arts & Firehawk Fitness and Defense - Indiana
Rick Hansen, students and friends of American Warrior Arts performed demonstrations during the rededication of Lincoln Center in Highland on Sunday feb. 11th.
Pictured are Richard Hansen (right) and John Dvorscak of Firehawk Fitness and Defense.
This was a special opportunity for students family and friends to gather in the newly renovated 7.5 million dollar facility.
---
NEWS 8/2011 - BLACK BELT TESTING
Congratulations to our Black Belts who recently promoted at our August 2011 testing.

Nicole Ervast - 4th Degree Taekwondo, 1st Degree Hapkido (12 years of training) * Royal Dragon
Vincent Telese - 3rd Degree Taekwondo, 1 Degree Hapkido * Royal Dragon
Emma Griffith - 1st Degree Hapkido
Annette Ehnle - 1st Degree Hapkido * Royal Dragon
Andrew Skidmore - 1st Degree Taekwondo
A Special congratulations to those reaching Royal Dragon status!
Royal Dragon Black Belts are those who earned a Black Belt in both Taekwondo and Hapkido experienced a six hour test and now black belts in both an outside range striking style and an inside range joint locking style. During our recent Certificate and tea ceremony, the following Black Belts received their certifications;
Annette Ehnle - 5th Degree Taekwondo, 1st Degree Hapkido (18 years of training) * Royal Dragon
Devin Jensen - 1st Degree Hapkido
David Kraunelis - 1st Degree Hapkido
Jesmar Colon - 1st Degree Taekwondo
Jevany Colon - 1st Degree Taekwondo
CONGRATULATIONS TO ALL!
---
NEWS 5/2011 - Master William Gibson promoted to 5th Dan
One of our AHF Charter members was recently promoted, Master William Gibson of Grand Prairie, Texas was promoted to
5th Dan by the honorable 9th Dan Grandmaster John Pham (Cau Gia Pham, Jin Pal Hapkido). Congratulations to Master Gibson. One of Master Gibson's students was promoted to 1st Dan (his first black belt student). Spencer Ingle is now a certified 1st Degree Black Belt with Texas Jin Pal Hapkido. Congratulations to all!
---
NEWS 5/2011 - AHF ANNUAL SEMINAR!
On May 14th 2011 we held our annual seminar. Each of our Five Masters presented a new look, a new perspective and a new segment of their skills. All in attendance were treated to a rigorous and fast paced day of training. Thank you to all in attendance!
---
NEWS 2/2011- 4/2011 SHIHAN SANTOS & GM RODRIQUEZ SEMINARS
In January we hosted a Laido sword seminar with Shihan Luis Santos. In February we hosted GM Rodriquez for a Ground Fighting and tactical knife seminar. Excellent training as usual, all in attendance were treated to some excellent demonstrations as well as high level training. We are proud and honored to have these skilled practitioners in our organization.
(photo to follow)
---
NEWS 10/2010 WELCOME A NEW SCHOOL
Welcome to Master William Gibson 4th Dan of Grand Prairie, Texas as our newest Charter School.



Master William Gibson is under the lineage of 9th Dan Grandmaster John Pham Seen in the left photo.
Master Gibson is directly behind him. Welcome to the AHF!
---
NEWS 6/2010 AHF PRESENTS AT THE WHFS HALL OF FAME IN ORLANDO
Master Ehnle & Master Peplinski presented seminars at this years WHFS Hall of Fame in Orlando. See the
Events page for photos. The event gets a write up in Inside Kung Fu magazine and Master Ehnle gets a mention!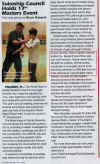 ---
NEWS 5/20/2010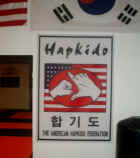 NEW AHF OFFICIAL SCHOOL FLAG
New AHF School Flag available. It measures 3'x4' and is on material with a grommet in each corner. The price is $39.95, get one for your school today. Check our pro-shop. Photo is the flag hanging at the headquarters school.
---
NEWS 5/10/2010

AHF FULL IMPACT 2010
What a great day of training and brotherhood. This years AHF FULL IMPACT SEMINAR was a great success. Special Guest Bram Frank and Ms. Sonya did an incredible edged weapon demonstration. Our AHF Masters did an incredible job as usual and all students in attendance had a great day of training and sharing. Thank you to all of our participants!
---
NEWS 4/17/2010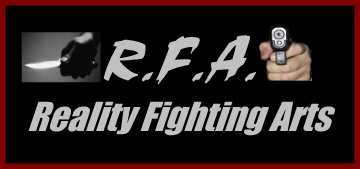 Master Frank Ehnle has implemented a new AHF program called the Reality Fighting Arts. This approach to training has been an intregal part of his black belt program for many years. He has also demonstrated this approach at the WHFS Hall of Fame. It is the opposite of competitive martial arts. The training approach deals with multiple attackers, armed attackers and those that fully resist. It also taps into the primal response we all have within us and sharpens those skills into deadly weapons to eliminate the threat. For more information www.RealityFightingArts.com
---
NEWS 12/01/2009 AHF HEADQUARTERS SCHOOL EXPANDS TO NEW LOCATION!
AHF & RDMA SCHOOL MOVES TO 3500SQ.FT. BUILDING!
2) Classrooms 4) Offices 4) Restrooms
* A Special Thank You to all of our students for the help moving!

---

NEWS OCT 2009
Grandmaster Tony Ramey 7th Dan Founder and President of Kidokan International has agreed to be a senior Hapkido advisor for the American Hapkido Federation. The AHF is proud to have GM Ramey on board as an advisor. Grandmaster Ramey is Master Rodriquez and Master Ehnle's Hapkido instructor and responsible for their rank and promotion in the distinguished Black Eagle Hapkido Association. We look forward to more visits and events with GM Ramey.
---
NEWS JUNE 2009
In the AHF and in our school we train not only edged weapon disarms but also offensive and defensive use of a folding blade. In a recent discussion with a Black Belt and students I came upon the question of legalities regarding carrying folding blades. I tried to research the laws for specifics but only found vague articles relating to knife laws in Florida. Who better to ask then Weapons Master Bram Frank. Click the link for a discussion regarding weapons laws and particularly Florida weapons laws. GM Bram Frank is a weapons specialist with a wealth of knowledge, skill and accomplishments in the field of edged weapons. The following is not be taken as legal advice, it is merely a discussion.
Click Here
---

NEWS MAY 2009
This years AHF Five Master Seminar was a huge success. Thank you to all the participants for their support. Another great day of sharing and training with our members & staff.
---
NEWS JANUARY 2009-



Master Ehnle was invited to be a seminar presenter at this years Karate College 2009 along with Dr.Jerry Beasley, Bill Wallace, Renzo Gracie, Michael DePasquale, Jr., Mike Lee Kanarek and others. Unfortunately this year due to a personal family commitment (wedding), Master Ehnle will not be able to attend, however he was honored by the invitation. For more info on the Karate college click here.
---
NEWS JULY 2008
Blade specialist, Weapons Master and our friend GM Bram Frank, who some of our new students met for the first time this year at our annual AHF Five Masters live, was recently honored in the Philippines for his commitment and skill in teaching the blade. Here are some photos he was kind enough to send us. CLICK FOR ALL PHOTOS::

---

JUNE 2008
A review of the AHF 2008 Five Masters Live Seminar was in the recent World Hapkido Association newsletter which is distributed around the globe to all of their distinguished Hapkidoist members. Thank you to the WHA for their mention of our event and for their worldwide ethical and honorable Hapkido organization. It is truly an honor to be a part of their organization. The June WHA newsletter can be seen at: http://www.worldhapkido.com/news.html
---
AHF FIVE MASTERS LIVE 2008!
Another great day of training featuring Five AHF Masters. Thank you to all the participants and guests!

Master Ehnle Demonstrates some JKD hand techniques with pressure points and HKDjoint lock finishes at the AHF 08 seminar.



Group Photo

SEMINAR REVIEW
---
NEWS 5/08
CONGRATULATIONS TO SHIHAN LUIS SANTOS
Luis Santos just returned from Japan where he was awarded 6th Dan in Aikido and the title of Shihan. There isn't a more deserving martial artist in my opinion. Shihan Santos represents the best traditional martial arts has to offer. He has the discipline, the integrity, and the skill level that few achieve. We are proud to have him as a staff member and congratulate him on his well deserved accomplishment.
---
NEWS 4/08
JEET KUNE DO AT AHF
HEADQUARTERS SCHOOL!
For six years from 1997 to 2003 I traveled the country and had the opportunity to train with some world renowned Martial Artists including The Gracie's, Bill Wallace, Joe Lewis, and many others. One such legendary Martial artist is Prof. Gary Dill. He is one of the original students of Bruce Lee's Oakland Ca. school. He trained under the now legendary James Yimm Lee, one of Bruce Lee's closest friends and the chief instructor at the Oakland, Ca. school. That schools is famous as the origin of JKD.
After training with Prof. Dill and experiencing original JKD as the way Bruce Lee intended, I immediately embraced the trapping, entering and footwork skills. I placed them into my TKD & HKD curriculums and my students and I trained on them regularly. I thoroughly enjoyed the fast hand techniques, strikes & kicks. JKD hand techniques made a perfect bridge for Hapkido in intercepting and entering in order to achieve joint locks. The drills were really natural for my style of training. I spoke to Prof. Dill about eventually starting a full JKD program in my school. At the time I was quite busy in the Hapkido world and did not want to start something I could not devote 100% too. Since then I have trained with Prof. Dill in Washington D.C., West Virginia, Orlando, Bermuda and here in Tampa. We not only trained, but we spent personal time together. We struck up a strong friendship and have very similar approaches to training and the martial arts. I was told of his time in the Oakland Ca. school and was fascinated to learn about those events and that he had some of the original Bruce Lee training manuals. This is a truly historic training reference. Prof. Dill's JKD curriculum & instructor manual contain many of the exact techniques, concepts & drills practiced by Bruce Lee and James Yimm Lee. His instructor manual also contains philosophy and quotes from Bruce Lee's original training manual.
In 2007 Prof. Dill graciously agreed to become a board member of the AHF. This furthered our bond and our vision for the future. Since then we've been talking about a Jeet Kune Do program at the headquarters school under his direction. I had been studying the techniques and his program and I am proud to say that this May I will complete the requirements to obtain a Jeet Kune Do Charter and instructor certificate from Prof. Gary Dill. As of June 2008 we have added Jeet Kune Do classes to our schedule. This is the first Jeet Kune Do school affiliated with Prof. Gary Dill in the state of Florida! Students in these JKD classes will be training in historic techniques, drills & concepts from Bruce Lee's original JKD curriculum! For more info on Prof. Gary Dill and his JKD association: Click Here

Jeet Kune Do is a fighting science that can enhance any Martial Art. It is a method of training and practice which can strengthen and improve speed, reflex & coordination for any martial arts practitioner.
---
NEWS 1/08


STARTING THE NEW YEAR RIGHT!
Our Hapkido adult class at the headquarters school has thankfully grown to its absolute largest. Our average classes now are completely filling our 2000sq.ft. school with adults. The photo above is not everyone, but a typical class these days. We are extremely appreciative to all of our regular students, long termers and new students. It is very true what they say about success. We are very pleased there are students who appreciate a traditional & ethical martial arts school and organization.
---
NEWS 11/07


HJS 5 YEAR ANNIVERSARY
Master Rodriquez celebrated his 5th Year anniversary of Huk Ju Sool. A seminar at his brand new school was attended by students from South America, Puerto Rico as well as students from around Florida. Attendees were treated to three days of high level Hapkido, Jeet Kune Do, Vale Tudo, Western Boxing, Ground grappling and more. It is amazing what truly skilled Grandmasters can demonstrate! The photo is not everyone who attended, but one group photo on Saturday.
---
NEWS 4/07


DECADE AWARDS
A recent class at Headquarters school. Welcome to all of our new Hapkido students at AHF Headquarters! Congratulations To Cynthia Shao and Paul Keeney on the recent promotion to 3rd Dan! Congratulations also to Cynthia Shao and Chris Falanga on their recent Decade Achievement Awards, reaching 10 years of training at Royal Dragon Martial Arts!
Another expample of the large healthy adult Hapkido training program going on at Headquarters.
We are truly blessed.
---
NEWS 2/07
Two upcoming AHF Events have been scheduled. April 21st, 2007 AHF -Annual Mixed Martial Arts Seminar featuring 5 Masters! Also May 24th,2007 - Jeet Kune Do clinic with legendary student of Bruce Lee's Oakland Ca. school, Prof. Gary Dill. Paperwork, flyers and information will be sent to all Individual & Charter School members.
---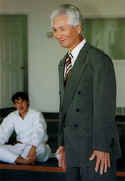 NEWS 1/07

Very sad to report the death of a true Hapkido Grandmaster and Legend, Bong Soo Han this past Monday. Bong Soo Han was the legendary choreographer responsible for the Billy Jack movies as well as other hollywood productions. He was well known as a highly skilled and ethical Martial Artist. He will be sorely missed in the Hapkido community. Details and thoughts from throughout the Martial Arts industry can be seen at:
---
NEWS 11/2006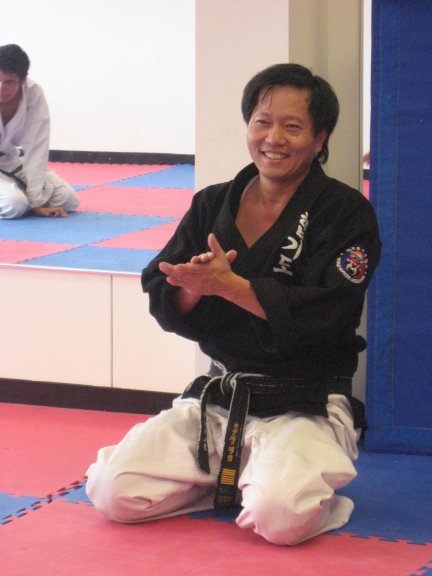 MASTER JUNG OF THE WORLD HAPKIDO ASSOCIATION RECENT VISIT TO FLORIDA.
---
NEWS 10/2006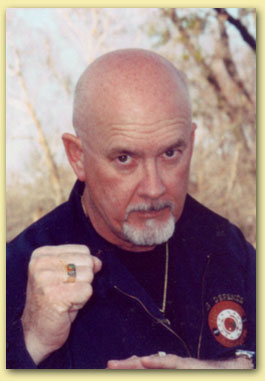 Inside Homeland Security interview with Professor Gary Dill
---
NEWS 9/2006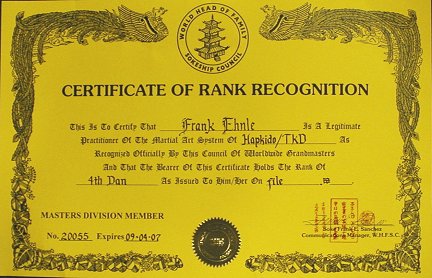 MASTER EHNLE is now a member of the World Head of Sokeship Council in their Master's Division. See Master Ehnle's guest column in the
World Hapkido Association newsletter regarding the WHFS.
---
NEWS 7/2006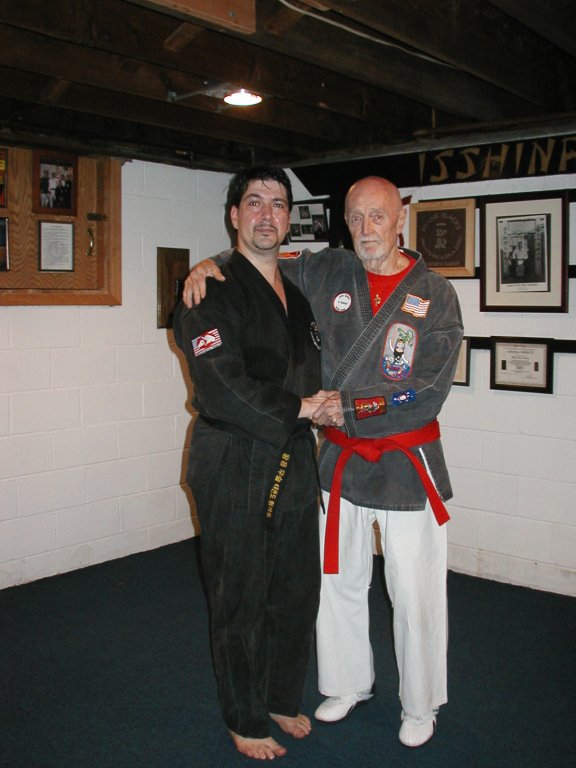 In his hometown area of Long Island Master Ehnle reunited with his instructor's instructor. Grandmaster Ed McGrath was Sensei Louis Coletti's original Isshinryu Karate instructor. GM McGrath is now a legend in Karate and is in the Isshinryu Hall of Fame. Master Ehnle gave a Hapkido seminar for this fine group of Isshinryu stylists. Photos of the event.
---
NEWS 5/24/06

Professor Gary Dill has accepted a position as a Senior Member of the Board of Directors for the American Hapkido Federation. Professor Dill is world renowned Jeet Kune Do practitioner as well as a Grandmaster in Bushido Kempo. He is a student of one of the original Bruce Lee Jeet Kune Do schools in Oakland, California. The American Hapkido Federation is honored to have such a distinguished Grandmaster on its Board of Directors. For more on Prof. Gary Dill Click Here.
---

NEWS 5/4/06
Master Frank Ehnle and Master Phil Peplinski of the AHF will be giving seminars at this years WHFS Martial Arts Hall of Fame in Orlando. The seminars will feature American Hapkido Federation style Reality based training including weapon disarms, joint locking and striking with advanced pressure points. This will be an excellent International venue for the AHF to demonstrate their style of reality based training.
---
NEWS 5/2/06

AHF headquarters School Royal Dragon Martial Arts has its 10th anniversary
Celebration Dinner! CLICK HERE
---
NEWS 5/02
Great article written by Prof. Dill regarding fraudulent instructors and Grandmasters in the Martial Arts CLICK HERE
---
NEWS 3/16
AHF IS PROUD TO WELCOME
JEET KUNE DO CLINIC WITH LEGEND
PROF. GARY DILL


* A Jeet Kune Do Clinic is scheduled for May 26th at Master Rodriquez school in Orlando. The clinic is being taught by legendary Jeet Kune Do stylist Prof. Gary Dill and original student of Bruce Lee's Oakland Ca. school. Come experience authentic Jeet Kune Do training with Prof. Dill. Check our Events page for details.
---
NEWS 3/06

Master Rodriquez Ground Submission Pro-Hapkido clinic was a huge success. Everyone was treated to an extremely high level of strategy and technique on the ground. We are also announcing that Master Rodriquez's next DVD will be filmed at the AHF headquarters school live during an H2H street tactics seminar. This seminar will feature the advanced H2H (hand to hand) portion of his CQDT (close quarters defensive tactics) curriculum. All who attend this seminar will be part of the DVD filming and also receive special pricing once the DVD is released. Look for a series of live seminar and curriculum DVD's from The American Hapkido Federation on a variety of Martial Arts subjects from our distinguished Staff of Master Instructors.

Upcoming AHF filming projects and DVD releases:

1) AHF Hapkido curriculum w/pressure points
2) Master Rodriquez Live H2H
3) AHF MuKiDo Weapons curriculum (sword, bo staff, nunchaku)
4) AHF Pressure Point Striking
---
NEWS 6/05

* The American Hapkido Federation welcomes its newest school. U.S. Taekwondo in Valrico Florida. Welcome to the students and instructors of our newest affiliated school.

* Plans are being made for the next AHF seminar. Stay tuned.

* The WHA Hapkido Summer Camp in Ventura California is coming up in August. Log on to www.worldhapkido.com for more information on the camp and this years Pro-Hapkido tournament.
---

NEWS 2/05
The Official American Hapkido Federation Arm Patch is in!


(click image to enlarge). Individual and school members waiting for patch orders will receive them shortly. We will be shipping orders early next week after the A.H.F. seminar. Thank you again for the great response and support!
---

NEWS 12/04
Our First Annual American Hapkido Federation Seminar will take place in February 19th. This unique training event will feature six masters in a fast paced rotating presentation format. It is sure to be exciting and will present REALITY BASED HAPKIDO TRAINING as well as several other unique topics including, MuKiDo, Ground Survival, Yudo/Hapkido Throwing, Aikido, Close Quarters Defensive Tactics, Pressure Points, Tactical Street Ready Weapon Disarms and more! In the spirit of Martial Arts brotherhood and the sharing of information between Masters this event will be reasonably priced for all in attendance.
EMAIL FOR INFO
---
NEWS 10/04
Welcome to our schools and members. Congratulations on selecting an ethical and moral organization that strives for the highest Martial Arts standards. Our support for your training, your school, and your students will be our highest priority without the fear of high pressure sales of videos, merchandises and over priced seminars. Your training and progress in learning the style of Hapkido is our only focus. Reality Based training with traditional respect for Martial Arts rank, hierarchy and protocols. We Welcome You to our Martial Arts Family.
THE AHF STAFF
---